VISA INFORMATION
Visitors to Thailand must obtain a visa from one of the Thai diplomatic missions unless they come from a visa-exempt country or a country whose citizens are eligible to obtain visas on arrival.
Thailand currently offers visa-free travel to nationals of 57 countries. The Thai government maintains bilateral agreements on visa waivers with some of these countries. Nationals of 21 countries can obtain a visa on arrival.

Visa on Arrival
(Updated last June 5, 2019)
Securing Visas upon entry in Thailand
The VISA ON ARRIVAL allows passport holders of 19* countries to enter Thailand under this rule provided that they meet these requirements:
The visit is strictly for tourism purposes.
The passport must be genuine and should be valid for at least 30 days.
You must have a valid address in Thailand whether a hotel or apartment that can be verified.
You must have a confirmed return ticket to show that they are flying out of Thailand within 15 days of entry, as appropriate. Open tickets do not qualify. Travelling overland out of Thailand by train, bus, etc to Cambodia, Laos, Malaysia (including en route to Singapore), Myanmar, etc is not accepted as proof of exiting Thailand.

You may be asked to show your flight ticket on entering Thailand. If you do not possess a flight ticket to show that you will be exiting Thailand within 15 days of entry you will be most likely refused entry.

It will also be necessary to prove that you have funds of at least 10,000 THB per person and 20,000 THB per family during your stay in Thailand.
A fee of 2,000 THB is payable upon entry and is subject to change without notice. It must be paid in cash and Thai currency only.
However, persons who are not eligible to enter Thailand under the VISA ON ARRIVAL and VISA EXEMPTION RULE are advised to obtain visas with the Royal Thai Embassy prior to their visit.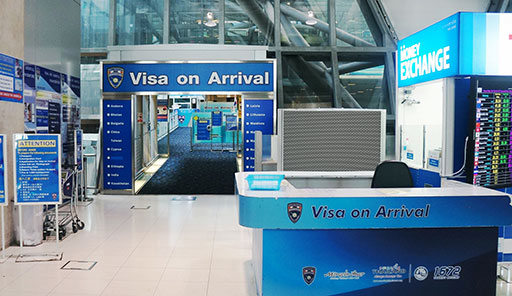 * List of countries eligible for the Visa on Arrival:
Bulgaria
Bhutan
China
Cyprus
Ethiopia
Fiji
Georgia
India
Kazakhstan
Malta

Mexico
Nauru
Mauritius
Papua New Guinea
Romania
Saudi Arabia
Taiwan
Uzbekistan
Vanuatu
List of Thailand's Immigration Checkpoints which provide facilities for issuance of visa on arrival:
Suvarnabhumi Airport
Don Muang International Airport, Bangkok
Chiangmai International Airport, Chiangmai
Phuket International Airport, Phuket
Hatyai International Airport, Songkhla
U Tapao Airport, Rayong
Mae Sai Immigration Checkpoint, Chiengrai
Chieng Saen Immigration Checkpoint, Chiengrai
Chieng Khong Immigration Checkpoint, Chiengrai
Betong Immigration Checkpoint, Yala
Sadoa Immigration Checkpoint, Songkhla
Samui Airport, Surat Thani
Sukhothai International Airport, Tak Immigration Checkpoint
Bangkok Harbour Immigration Checkpoint, Bangkok
Sri Racha Immigration Checkpoint, Chonburi
Mabtaput Immigration Checkpoint, Rayong
Nong Khai Immigration Checkpoint, Nong Khai
Samui Immigration Checkpoint, Surat Thani
Phuket Immigration Checkpoint, Phuket
Satun Immigration Checkpoint, Satun
Krabi Immigration Checkpoint, Krabi
Songkhla Harbour Immigraion Checkpoint, Songkhla
Chiangrai Airport Immigration Checkpoint, Chiangrai
Surat Thani Airport Immigration Checkpoint, Surat Thani
See more inforamtion via https://www.thaiembassy.com/thailand/visa-on-arrival.php
Types of Thai Visa
Tourist Visa
This is a 60-day Tourist Visa to Thailand that can either be a multiple or single entry and can be extended for up to another 30 days by means of a visa run. Well if you want to extend longer than 30 days, you can convert the visa to a Non-Immigrant Visa which will require you to go to the nearby city or country such us Penang and Kuala Lumpur, Malaysia.
Non-Immigrant Visa
This is normally a single entry visa to Thailand valid for 90 days. Like the tourist visa, you can extend your stay by doing visa run going to the border or nearby city/country. Obtaining a work permit and opening a bank account is possible.
One Year Non-Immigrant Visa
This visa is often a Multiple Entry Visa to Thailand valid for use for a period of 1 year. You are allowed to stay 90 days per entry which means, every 90 days, you will have to go to border and have your visa stamped at the immigration (visa run).
Marriage Visa and Retirement Visa
There is no direct application for this 2 visa types. But don't worry its not going to be a complicated process, as long as you will meet the special financial requirements for the application. How to obtain a Marriage Visa in Thailand? You must simply be married to a Thai National. Otherwise, if you want a Retirement Visa in Thailand, you need to be 50 years old or above.
The process is as easy as 1 2 3. First step, you obtain a non-immigrant visa. Next, convert the non-immigrant visa to either Marriage Visa or Retirement Visa. These are the visa types that will allow you to stay in Thailand for the whole 1 year (renewable) without going to the border or not leaving the kingdom anymore at all.
Business Visa
This visa is specially designed for people who want to do business legally in Thailand. It is also known as Non-Immigrant Business Visa. You can get a work permit, open a bank account however you still need to do a visa run every 90 days.
Permanent Resident Visa
To qualify for this visa, you must have stayed in Thailand for 3 consecutive with the one-year-visa extensions. If you are married to a Thai for 5 years, you must be earning 30,000 Baht/month. If you are single, at least your monthly income should be 80,000 Baht. You just simply present your three years of personal tax statements proving the above-stated income requirements to qualify for a Permanent Resident Visa in Thailand.
NEW RULE OF VISA-ON-ARRIVAL
30-day Visas now Down to 15
Border runs have been cut short due to the very recent change in rules regarding overland entry by Thai immigration. Foreigners entering Thailand via border posts at Cambodia, Laos, Myanmar, and Malaysia without securing a prior visa will now be granted only 15 days of stay in the country as opposed to the previous Visa on Arrival, which was valid for 30 days.
According to a spokesman for the Thai Immigration Bureau, the new regulation was created to encourage foreigners to secure the proper visas in advance from a Royal Thai Embassy prior to their arrival. The new rule will also limit the amount of back-to-back visa runs being made by foreigners to extend their stay.
However, this change only applies to visitors who have not obtained a visa beforehand, and are entering from the border by land. Those who arrive at the airport without a prior visa will continue to receive a 30-day stamp. Extensions at Thai Immigration after the Visa on Arrival has expired remain at 7 days, after which you must leave the country or pay the penalty and other sanctions for overstaying the visa.
The only exception to the new regulation will be Malaysian passport holders traveling from Malaysia, as they will continue to receive the 30-day Visa on Arrival. Immigration authorities further clarified that there is no longer a limit on the number of times a foreigner may enter Thailand within the days allowed on the Visa on Arrival. The former provision stating that visitors cannot stay for more than 90 days within six months has already been dropped.

Beyond 90 Days
A dose of good news awaits tourists—following the new regulation set by Thai Immigration, visitors can now come regularly to Thailand without limiting their stay within a total of 90 days in a six-month period.
The restriction has already been abolished so tourists can now visit Thailand as often as they want, provided that they obtain 30 day Visa on Arrival at airports and 15 day Visa on Arrival if they are traveling via land borders.
However, immigration officials still recommend getting visas prior to arrival in Thailand, as they remind visitors that back-to-back short visas are not the proper way to extend the stay in the country on a long-term basis.
This new regulation is predicted to greatly benefit travel agencies as more border trips are expected to be booked with the increased influx of tourists eager to renew their visa.